Sprayballs for CIP Installations

WISA Sprayballs are the premier solution for all CIP applications in the Dairy, Food, Brewing and Beverage, Wine, Chemical and Pharmaceutical Industries.

The non-rotating low-pressure WISA Sprayballs are today's optimum technical solution for spraying cleaning solutions in CIP installations.

For all your particular needs WISA can design and supply the most ideal Sprayball solution to meet all your cleaning objectives.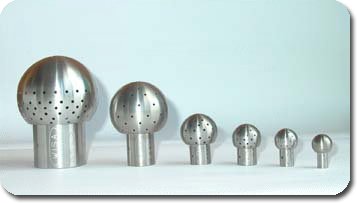 WISA Sprayballs are certified by Agri Quality New Zealand (formerly MAF Quality Management) for the use in the Dairy and Food Industry.
Features of WISA Sprayballs
WISA Sprayballs are made of stainless steel, AISI 316 Ti (CrNi 1.4571) - alternatives see Sprayball Range
WISA Sprayballs are of sanitary design and fabrication to meet local and international sanitary regulations
WISA Sprayballs have no moving parts and therefore no maintenance costs occur
WISA Sprayballs are finished to state of the art hygiene standards using laser technology
WISA Sprayballs are fully self-draining and self-cleaning, even when covered with product
WISA Sprayballs are simply and securely fixed, with a special designed stainless steel clip
WISA Sprayballs have got a "shoulder" which guarantees a true full coverage. However WISA Sprayballs can be customised without a shoulder if required.
Our Commitment
WISA has long-term experience and expertise in plant hygiene and CIP System Design, and will assist you to design the correct CIP location and flow rate, which will together with the correct CIP program, ensure effective cleaning.
WISA will customise a Sprayball for your particular CIP requirements if necessary.
You can expect a result, as we are committed to assist you to consistently produce high quality product.
Your Turn to Challenge Us
You are invited to contact us with your particular requirements.

Tel. ++64-(0)9-292 5022 Fax ++64-(0)9-292 5800